November 2013
23rd November 2013
On Food for Thought this week I have Dr Suzanne Humphries, a medical doctor and Nephrologist who is passionate about dispelling the myths that surround vaccinations. Click here to listen
We talk about her new book called Dissolving illusions, Disease, Vaccines, and the Forgotten history which is an in depth study of diseases and the history of the vaccines brought in to eradicate them, and how they were reduced.
For more information about what Suzanne does go to http://drsuzanne.net/
16th November 2013
Advertising Standards Agency – What authority? This week I interviewed Barry Tanner from the GRCCT about what is the ASA's remit, and how does it affect us as practitioners. Click here to listen
9th November 2013 This week I interview Yasmin Vorajee. Click here to listen
Emotional pressures and stress can deteriorate your health.  A clear thinking approach to modern living can help you reduce stress levels and regain your health – especially when you are trying to run a business!  We talk about getting clarity and focus, rewriting the rules, being a woman in business, how values are important and the limitations that are imposed on women in today's society.
30th October 2013
Sherry Ruth Anderson has written the most lovely book on ripening into old age, something so rarely discussed in a society focused on youth and remaining young. 
Ripening Times takes you on a journey of unfolding through stories about growing into your wisdom and forever remain
Today on Food for Thought Sherry Ruth discusses her book, her inspiration for writing it, and the compass we develop that aids in our growing into our age. A fabulous interview of learning in the present.
October 2013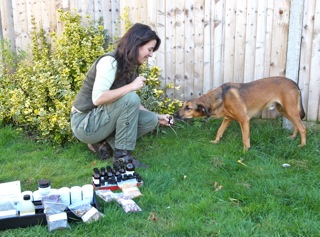 This weeks show I have the second part of Siobhan Pestano's interview that she did with me but this time on Zoopharmacognasy, which is the natural treatment of animals, which they do through self medication.
An absolutely fascinating interview in which Siobhan explains what it is, and her treatment protocol of my dog Frost which is how I met her. She is currently studying in it, so isn't yet a practitioner, but she definitely made a massive difference to my dogs health, so I wanted everyone to know about the approach.
September 2013
This week on Food for Thought i interviewed Helen Turier Author of Bounceback Ability and reflexologist about resilience and how to get through stressful times. Click here to listen in. 
August 2013
24th August 2013
This week on Food for Thought I interviewed the lovely chiropractor Grant Pretorius who runs his own practise in Farnham Hampshire. He talks about how to have great natural health using both diet and spinal work. Click here to listen
17th August 2013
Tom Evans author and TV presenter of The Zone appeared on the show this week, talking about how to get in and stay in the zone that often elusive place. Click here to listen
I also interviewed Performance Poet Simon Welsh about the fracking that is going on in his home village of Balcombe in West Sussex. Click here to listen
10th August 2013
Max Bliss and Mona Norman talk about chemtrails and the events they are organising across the UK to highlight what is happening. Click here to listen
May 2013 Shows
14th May 2013
I did a fantastic interview in May with Martina Watts a nutritionist who is one of the developers behind a website called Cokespeak, I've had a bit of a break from the radio and now posting it for you to listen to. Cokespeak outlines the language food manufacturers  are using to make their products seem more natural than they actually are.
We are streaming it on Natural Health Radio at the moment if you would like to listen to it there!!
11th May 2013
Achoo…it's all about allergies, and I get a bit hot under the collar about an article in the Guardian newspaper! Click here to listen
4th May 2013
I couldn't believe how much we had spent on drones for warfare when there are people in poverty with both fuel and food in the UK, so I ended up having a totally unscripted rant. Click here to listen.
April 2013 Shows
27th April 2013
B1tchin Bob talks about technology. Click here to listen to this mad show! 
20th April 2013
Sean Hamman talks about Shamanism and his journey to becoming a shaman. Click here to listen
13th April 2013
This week I interviewed a fascinating therapist called Debbie Carey who works with sound bowls, she had a massive knowledge about personal development so enjoy her talking about this.
6th April 2013
This week I interviewed Mona Norman the organiser of the UK chemtrail awareness events that are happening from this weekend.
Click here to listen to the podcast 
March 2013 Shows
23rd March 2013
This week I cover off flu vaccinations, and why you might not want to partake, I do also cover a little bit on Vitamin D in the hope of at least one person in the chat box getting healthy enough to take it!! As always fry ups are high on the list of challenges!!  Click here to listen
16th March 2013
I talk about the spleen, mainly because the chat box asked for it!!  LOL Click here to listen
9th March 2013
Vitamin chatroom, dosage take once a day, and laugh a lot. 
 Stuart Morrison 1st March 2013
The ball of awesomeness called Stuart Morrison took over my show on Saturday and to be honest none of us really knew what hit us!! LOL He talked about his issues with Tescos Banking and them asking for money despite the Banking Ombudsmen saying they didn't owe Tescos any money. Click here to listen
February 2013 shows
Colon Hydrotherapist Lisa Arthur from Guildfords Sunshine Clinic came on to talk to me about bowel health. 
Shazzie this week gives a truly insightful and at times funny interview about life, manifesting, love, and chocolate. This is by far one of my favourite interviews I have done. Enjoyxx
February 2nd 2013
Christina Lavelle Director of Brainworks NT in London talks about biofeedback and the benefits to the brain, and I cover off brain nutrition. 
January 2013 shows
Food for Thought today was all about supporting you with your cancer journey and experiencing your true potential. It had truly inspiring interviews from Keith Hern and Beata Cinkler.
Andy Finlayson 19th January 2013
On Food for Thought this week I had Andy Finlayson who channels light beings, the meditation is absolutely beautiful and very relaxing. 
Vera Peiffer 12th January 2013
On Food for Thought  best selling Author, hypnotherapist and kinesiologist Vera Peiffer. She was incredibly informative on both regrowing your hair naturally, and positive living.
Dean Grimshawe 5th January 2013
Dean gives another cracking interview this time busting dieting, detoxing and exercise myths that tend to abound in the media in January.